We found an old antique mailbox at a flea market, couldn't resist it.
I t presented a new problem, it wasn't large enough for the larger pieces of mail!
Thus was born, the mail/milk box for the front porch.
It also provides a hidden place for people to leave items for us or vice versa.
Another rainy day project = change "MILK" to "MAIL"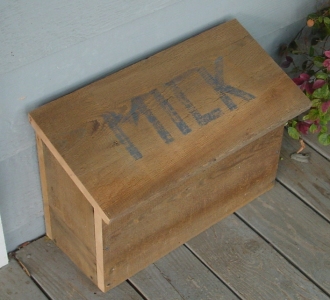 Supplies needed:
Old pieces of wood
Black paint
Screws, glue, drill
2 hinges
Instructions:
Cut out the required pieces of old wood.
Old wood works well as the ends are not new as mine are, but the weather will fade the box quickly.

Glue and screw the pieces together - always pre drill your holes!

Rout out (a work knife works fine) space for the hinges on the top of the back piece.
Screw the hinges in place.

With a piece of cardboard, cut out the lettering you want.
Place the cardboard on top of the box, dab on black paint with a paper towel or paint brush.
After the paint has dried, take a wire brush and gently scrape away some paint in the direction of the wood grain
until you get an 'old' appearance to the letters.

Missing dimensions depend on the thickness of wood used
Angles are all cut at 30 degrees
Cut the bottom piece to fit inside finished box
Finished box side
should look like this
---
---